Home Improvement Contractors Committed to Quality Craftmanship
Harbour View Kitchen & Bath began with a commitment to always provide quality cabinetry that is engineered and designed for a lifetime. We specialize in "Made in America" cabinets and source them only from companies who adhere to our high standards. The cabinets that we offer have been subjected to the most rigorous quality control measures and meet industry environmental standards. We scour the country to find the best materials to ensure that our customers love both the look and functionality of their finished product.
Why We Started This Business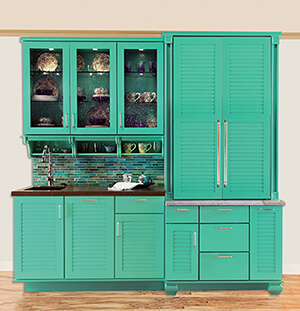 Harbour View Kitchen & Bath was started after our founder, Annette Young, had a rather disastrous experience. During her 30-year career as a home builder, she had the unfortunate experience to receive tainted materials from an overseas distributor. After this experience, Annette was determined to only buy the best of American-made components whenever possible.
Through her experience as a member of the Southern Living Custom Home Builders, she was introduced to Wellborn Cabinet, Inc.®, which is located in Alabama. Once seeing in person their manufacturing facility and witnessing the process and the quality with which their cabinets are manufactured, Annette decided that this American-made cabinet was for our company and clients.
With this in mind, in 2016, Harbour View Kitchen & Bath was established. Within a year, Annette was made aware of yet another quality American-made cabinet company, BJ Tidwell Cabinetry, out of Texas. We are now proud to offer only cabinets that are handcrafted in the USA.
Harbour View Kitchen & Bath offers a wide variety of kitchen and bathroom cabinets, countertops and hardware, all made with the same commitment to quality.
Start Your Project Now!
Turn to the home improvement contractors who care: Harbour View Kitchen & Bath. Contact us today at (757) 630-0406, or fill out our online form to learn more about our services and how we can assist you.