A Wide Selection of High-Quality Countertops
Launch Your Next Bathroom or Kitchen Design Project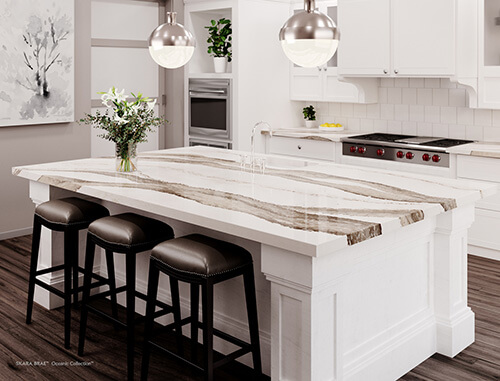 You have a lot of options when it comes to kitchen and bathroom countertops, and all have different benefits. They also come in different colors, and each type is unique. Traditional granite countertops offer a high-end appearance that adds to your kitchen value while providing a durable preparation surface. Quartz countertops have recently become popular with their wide range of colors and patterns.
When selecting countertops, you need to consider your individual needs and your lifestyle. Do you need your countertops to take a lot of abuse without requiring much upkeep? Also, are you trying to stay within a tight budget? Luckily, no matter what your preferences are, Harbour View Kitchen & Bath can help you find a countertop that will match the look you're going for as well as your daily life requirements.
Countertop Options
Harbour View Kitchen & Bath knows that each of our clients is unique in their wants and requirements. That's why we don't offer one-size-fits-all solutions. Instead, we have partnered with many of the best-known brands in the industry to ensure that you always have an impressive selection of countertop options to choose from. Our current offerings include the following:
Granite Countertops
Silestone Countertops®
CAMBRIA® Countertops
Viatera® Countertops
VICOSTONE Countertops
DuPont™ Corian® Countertops
EOS Solid Surfaces Countertops
Cultured Marble Vanity Tops
Wilsonart® Countertops
Formica® Laminate Countertops
If you're unsure of your needs, our design team can work with you to narrow down your choices and provide you with individualized recommendations.
Schedule Your Appointment Now
Harbour View Kitchen & Bath will provide you with countertops that meet industry standards, and with customer service and craftsmanship that will exceed your expectations. Contact us at (757) 630-0406, or fill out our online form.