Build a Better Bathroom With Our Expert Design Team
Superior Cabinetry Design Services for Your Next Project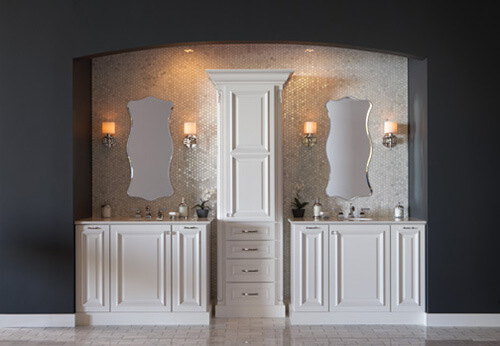 Our dream bathrooms usually involve a spa-like retreat that looks like a gorgeous escape from a magazine. Unfortunately, many times bathrooms still end up feeling cramped and looking dated. What many homeowners don't realize is that an outdated bathroom could negatively affect the value of the house.
When designing the bathroom cabinetry for your new home, call the design team with 30+ years of experience at Harbour View Kitchen & Bath. We live by the motto of only using quality materials for all our home improvement services. Our cabinets are made from the finest materials, right here in America.
Our Mission Statement
At Harbour View Kitchen & Bath, we know that what sets us apart from our competitors is our commitment to providing our customers with high-caliber cabinetry, countertops and hardware. All our cabinets are subjected to rigorous quality control measures and industry environmental standards. This means that when your cabinets are installed, they will improve the aesthetics of your space and will last for a very long time.
We take customer service very seriously. In fact, we want you to be a part of the process from start to finish! The Harbour View Kitchen & Bath designers can help you create exactly what you want for every room of your home.
Get Your Cabinetry Project Started Today
Make your bathroom the escape that you need to freshen up before work or relax after a hard day. Our designers can help you find the right options – whether new cabinets, knobs or countertops – to create a truly functional, beautiful bathroom. Contact us now at (757) 630-0406, or you can fill out our online form.