Local Designer Specializing in American-Made Cabinetry
Superior Cabinets for Your New Kitchen & Bath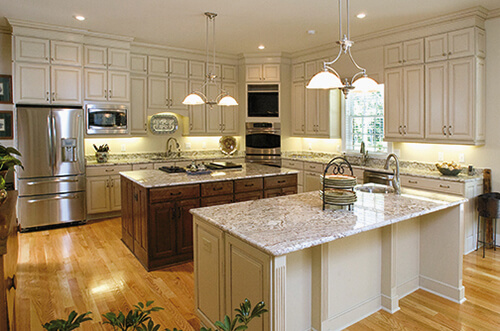 Proper kitchen and bathroom cabinetry design are crucial to the function and enjoyment of your new home. If you don't have adequate space, these two rooms can quickly become cramped, especially if they don't have adequate storage. This is not only frustrating since you often have to try and find places to put your items, it can also negatively impact the home's overall appeal. Quality cabinetry can improve the overall look and flow of your home, and increase its value.
At Harbour View Kitchen & Bath, we offer American-made cabinetry created from the finest materials. We want you to have confidence in us when it comes to your kitchen and bath design, and your cabinetry needs. We will work with you to find cabinet designs that best fit your home's architecture as well as your own personal preferences. Our design team can help you get the cabinets that you've always wanted for your new home!
We Protect Your Investment
We know that new cabinets are a big investment. That's why at Harbour View Kitchen & Bath, we ensure that the installation process is a positive experience. As part of our services, we will make sure that your new cabinets are level and flawless. We will guide you through the entire process so you know what to expect, and we won't leave the job site until you are completely satisfied with your new cabinetry and hardware.
Turn to a Contractor With Decades of Experience
Harbour View Kitchen & Bath's founder has more than 30 years of industry experience. She established this company to ensure that customers always receive the highest-quality products. Our commitment to upholding industry standards and providing excellent customer service sets us apart from our competitors. Learn more today by calling (757) 630-0406 or by filling out our online form.