Our Cabinetry Experts Install BJ Tidwell Cabinetry
Harbour View Kitchen & Bath exclusively offers cabinetry handcrafted in the U.S. We were founded with the commitment to adhere to the highest standards of cabinetmaking, designing products engineered to last a lifetime. We respect our customers enough to only offer them products that we would use in our own homes.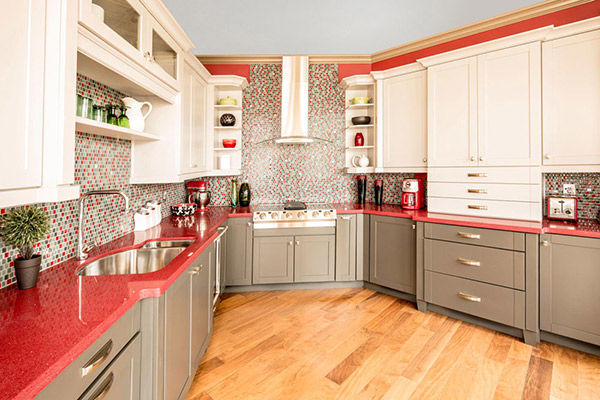 As your local cabinetry experts, we are proud to partner with many of the top cabinetmakers in the industry. Harbour View Kitchen & Bath subjects all our cabinetry to the strictest quality control measures and ensures the brands we carry are engineered to meet the most demanding environmental standards. This is why we offer BJ Tidwell Cabinetry.
The Beauty of BJ Tidwell Cabinetry
BJ Tidwell has had a passion for woodworking for a very long time. This passion culminated with the creation of his company, BJ Tidwell Cabinetry. Using his and his team's accumulated experience, Tidwell has pioneered a meticulous production strategy that ensures high-quality craftsmanship at a large scale.
Beautiful BJ Tidwell cabinets come in a wide variety of styles, including the Classic Flat Panel, Classic Raised Panel, Devonshire II panels and more.
During our initial consultation, we'll discuss your individual needs and come up with a cabinetry solution that will make your new home aesthetically pleasing, as well as maximize its functionality and convenience. We can also demonstrate the many cabinetry options available from BJ Tidwell. The skilled technicians at Harbour View Kitchen & Bath will strive to exceed your expectations.
Get Your Project Started Today!
Harbour View Kitchen & Bath is the cabinetry contractor that can assure you that your finished product will not only add to the look of your new home, but also its functionality. We only carry the best American-made components. Harbour View Kitchen & Bath offers a comprehensive selection of kitchen and bathroom cabinets, countertops and hardware. Leverage our commitment to quality by calling us at (757) 630-0406, or fill out our online form to learn more about our products and services.