Wellborn Cabinet, Inc.®: Increasing the Value of Your Home
Harbour View Kitchen & Bath Proudly Installs Top-of-the-Line Cabinetry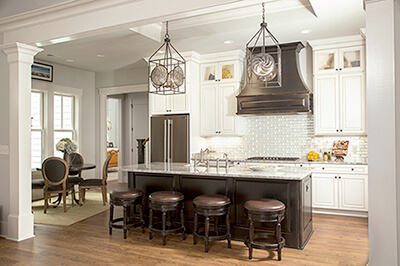 Wellborn Cabinet, Inc.®, has been making quality kitchen and bathroom cabinets since the 1960s. Our goal is to provide cabinetry and storage solutions that help you maximize your living space. We offer cabinets in a wide range of hardwoods, including red oak, hickory, maple and cherry. Our top-of-the-line collections are available in over 30,000 door styles, species and finish combinations.
If you're not sure where to begin, Wellborn has resources to help you design and find the perfect cabinets. Harbour View Kitchen & Bath is proud to provide these superb cabinets to our clients. We take a consultative approach to ensure that we fully understand your needs and provide you with products and services tailored to your particular desires.
Why Invest in Quality Cabinetry for Your New Home?
If you are building a new home, one of the most important components to invest in is high-quality cabinetry. Your cabinets have a big impact on the overall look and feel of your home, and also play a critical role in your home's functionality and convenience. Our "Made in America" cabinetry is sourced from companies we have carefully vetted to ensure they meet our high standards in terms of both quality and environmental impact.
While investing in custom cabinetry can be expensive initially, it will pay off in the long run by improving the overall value of your house. Installing top-of-the-line cabinetry in your new construction project will certainly increase your home's aesthetics and bring you more enjoyment. Let's discuss your options and what works best for your budget.
Start Your Project Today With the Top Cabinetry Team!
We are customer-oriented and want to ensure that we install cabinetry that exactly fits your vision for each room of your home. Our staff members are extremely knowledgeable and skilled. Schedule an appointment now by calling (757) 630-0406 or by filling out our online form.